Exhibitions
PAST:
Crochet Coral Reef
@ New York University Abu Dhabi Institute, UAE
September 28 – December 5, 2014
making space
@ Google Venice Offices, Los Angeles
October 2013 – February 2014
Science + Art Residency: Being Formed
@ Institute For Figuring, Los Angeles
July – December, 2013
An Alternative Guide to the Universe
@ Hayward Gallery, London
June 11 – August 26, 2013
Out of Fashion
@ GL Holtegaard Museum, Copenhagen
April 2013 – Jan 2014
making space
@ Institute For Figuring, Los Angeles
December 15, 2012 – June 29, 2013
Physics on the Fringe
@ Institute For Figuring, Los Angeles
April 14 – November 10, 2012
Mosely Snowflake Sponge Exhibition
@ The USC Libraries
September 20, 2012 – January 30, 2013
Midden Project
@ The New Children's Museum, San Diego, CA
October 15, 2011 –September 15, 2013
The Logic Alphabet of Shea Zellweger
@ The Museum of Jurassic Technology
Opening reception March 3, 2007 – March 3, 2012
IFF
@ The Walker Art Center
April 24 – September 29, 2009
Inventing Kindergarten
@ Art Center College of Design, Alyce de Roulet Williamson Gallery
October 13, 2006 – January 7, 2007
Hyperbolic Cactus Garden + Hyperbolic Kelp Garden
@ Fair Exhange, during the LA County Fair, Pomona Fairgrounds
September 8 – October 1, 2006
The Business Card Menger Sponge
@ Machine Project, Los Angeles
Los Angeles – August 26 – September 24, 2006
Crocheting the Hyperbolic Plane
@ Machine Project, Los Angeles
Los Angeles – July 2005
Philosophical Toys
@ Apex Art, New York
June/July 2005
Lithium Legs and Apocalyptic Photons
@ The Santa Monica Museum of Art
April 20 – June 9, 2002
Crochet Coral Reef Exhibitions
Hyperbolic: Reefs, Rubbish, and Reason
@ The Williamson Gallery, Art Center College of Design, Pasadena, CA
June 6 – August 21, 2011
Crochet Reef
@ The Smithsonian's National Museum of Natural History, Washington, DC
October 16, 2010 – April 24, 2011
Crochet Reef
@ The Science Gallery, Dublin
March 20, 2010 – June 11, 2010
The IFF "Bleached Reef"
@ The National Design Triennial at the Cooper-Hewitt, NYC
May 14, 2010 – January 9, 2011
Crochet Cactus Garden
Jackson Hole, WY
June 26 – September 28, 2009
Crochet Reef
Scottsdale, AZ
April 11 – July 11, 2009
Crochet Reef Show
@ Track 16 in Los Angeles
Jan 10 – Feb 28, 2009
New York and Chicago Reefs
Staten Island
Sept 27 – Dec 20, 2008
UK Reef Tour
Autumn 2008
Plastic Exploding Inevitable Reef
San Francisco
Sept 7 – Oct 3, 2008
Crochet Reef Symposium
@ Southbank Center
Friday June 13, 2008
Crochet Reef
London
June 11 – August 17, 2008
Crochet Reef
New York
April 6 – May 18, 2008
The Crochet Cactus Garden
@ The Wignall Museum, Chaffey College
January 29 – March 1, 2008
The Crochet Cactus Garden
@ The David Weinberg Gallery
October 26 – December 29, 2007
The Crochet Coral Reef
@ The Chicago Cultural Center
October 13 – December 16, 2007
The Crochet Coral Reef
@ The Andy Warhol Museum
March 11 – June 17, 2007
Physics on the Fringe
The Inaugural Exhibition at the Institute For Figuring's new space.
Exhibition Dates: April 14 – November 10, 2012
Celebratory Party: Saturday May 12, 2012.
Save the Date and Join us as we toast our new home.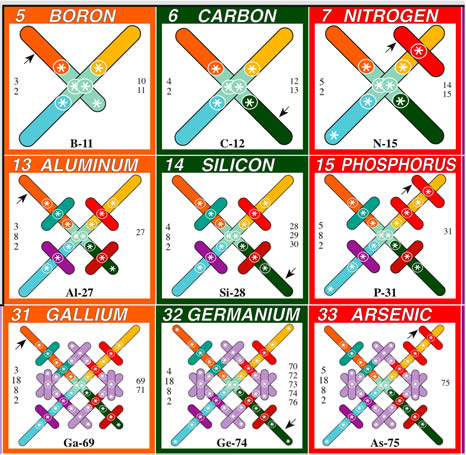 Whate drives a man with no science training to think he can succeed where Einstein and Stephen Hawking have failed? In the Institute For Figuring's first suite of jewel-box-like exhibitions, the main gallery will feature Physics on the Fringe, an exploration of alternative theories of the universe by geniuses, mavericks and outsiders from the nineteenth century to today. The exhibit celebrates the amateur spirit of inquiry, putting into historical context the individual impulse to understand our universe. Continuing the IFF's commitment to participatory programming, visitors are invited to peruse our unique collection of both insider and outsider physics theories, and to write their own ideas about the structure of reality in our exhibition folio.
Theorists featured in the exhibition include outsiders James Carter, Michael Evans and Stoyan Sarg, along with quintessential nineteenth century insiders P.G. Tait and William Thomson aka Lord Kelvin.
The exhibit is held in conjunction with IFF Director Margaret Wertheim's new book of the same name.
In addition to our main gallery, the Institute's three Project Rooms will show three new miniature exhibitions:
Project Room 1 — The Antigravity Annex
An intimate look at subverters and deniers of gravity.
Project Room 2 — The Hyperbolic Imaginary
A mathematical celebration of hyperbolic space in which visitors are invited to construct their own paper models to add to the exhibit.
Project Room 3 — Pod Worlds
A visionary suite of tiny, hyperbolic crochet landscapes. The exhibit is an extension of the IFF's Hyperbolic Crochet Coral Reef project, one of the largest participatory science + art endeavors in the world.