Exhibitions
PAST:
Crochet Coral Reef
@ New York University Abu Dhabi Institute, UAE
September 28 – December 5, 2014
making space
@ Google Venice Offices, Los Angeles
October 2013 – February 2014
Science + Art Residency: Being Formed
@ Institute For Figuring, Los Angeles
July – December, 2013
An Alternative Guide to the Universe
@ Hayward Gallery, London
June 11 – August 26, 2013
Out of Fashion
@ GL Holtegaard Museum, Copenhagen
April 2013 – Jan 2014
making space
@ Institute For Figuring, Los Angeles
December 15, 2012 – June 29, 2013
Physics on the Fringe
@ Institute For Figuring, Los Angeles
April 14 – November 10, 2012
Mosely Snowflake Sponge Exhibition
@ The USC Libraries
September 20, 2012 – January 30, 2013
Midden Project
@ The New Children's Museum, San Diego, CA
October 15, 2011 –September 15, 2013
The Logic Alphabet of Shea Zellweger
@ The Museum of Jurassic Technology
Opening reception March 3, 2007 – March 3, 2012
IFF
@ The Walker Art Center
April 24 – September 29, 2009
Inventing Kindergarten
@ Art Center College of Design, Alyce de Roulet Williamson Gallery
October 13, 2006 – January 7, 2007
Hyperbolic Cactus Garden + Hyperbolic Kelp Garden
@ Fair Exhange, during the LA County Fair, Pomona Fairgrounds
September 8 – October 1, 2006
The Business Card Menger Sponge
@ Machine Project, Los Angeles
Los Angeles – August 26 – September 24, 2006
Crocheting the Hyperbolic Plane
@ Machine Project, Los Angeles
Los Angeles – July 2005
Philosophical Toys
@ Apex Art, New York
June/July 2005
Lithium Legs and Apocalyptic Photons
@ The Santa Monica Museum of Art
April 20 – June 9, 2002
Crochet Coral Reef Exhibitions
Hyperbolic: Reefs, Rubbish, and Reason
@ The Williamson Gallery, Art Center College of Design, Pasadena, CA
June 6 – August 21, 2011
Crochet Reef
@ The Smithsonian's National Museum of Natural History, Washington, DC
October 16, 2010 – April 24, 2011
Crochet Reef
@ The Science Gallery, Dublin
March 20, 2010 – June 11, 2010
The IFF "Bleached Reef"
@ The National Design Triennial at the Cooper-Hewitt, NYC
May 14, 2010 – January 9, 2011
Crochet Cactus Garden
Jackson Hole, WY
June 26 – September 28, 2009
Crochet Reef
Scottsdale, AZ
April 11 – July 11, 2009
Crochet Reef Show
@ Track 16 in Los Angeles
Jan 10 – Feb 28, 2009
New York and Chicago Reefs
Staten Island
Sept 27 – Dec 20, 2008
UK Reef Tour
Autumn 2008
Plastic Exploding Inevitable Reef
San Francisco
Sept 7 – Oct 3, 2008
Crochet Reef Symposium
@ Southbank Center
Friday June 13, 2008
Crochet Reef
London
June 11 – August 17, 2008
Crochet Reef
New York
April 6 – May 18, 2008
The Crochet Cactus Garden
@ The Wignall Museum, Chaffey College
January 29 – March 1, 2008
The Crochet Cactus Garden
@ The David Weinberg Gallery
October 26 – December 29, 2007
The Crochet Coral Reef
@ The Chicago Cultural Center
October 13 – December 16, 2007
The Crochet Coral Reef
@ The Andy Warhol Museum
March 11 – June 17, 2007
THE MOSELY SNOWFLAKE SPONGE
at THE USC LIBRARIES
Throughout 2012, IFF director Margaret Wertheim has spearheaded a campus-wide project at the University of Southern California to build a giant model of a three-dimensional fractal known as the Mosely Snowflake Sponge. The initiative is part of a year-long series of events Margaret has curated for the USC Libraries in her role as the inaugural Discovery Fellow.
The Mosely Snowflake Sponge is on exhibition at USC's Doheny Library.
Exhibition Dates: September 20 - December 15, 2012
Opening Reception: Thursday, September 20 @ 5-7pm
Mosely Snowflake Sponge at the USC Libraries
Mosely Snowflake Sponge Facebook page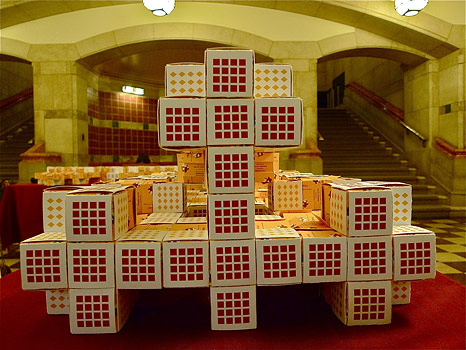 ABOUT THE MOSELY SNOWFLAKE SPONGE PROJECT
In 1926, mathematician Karl Menger discovered the first three-dimensional fractal, which came to be called, in his honor, the Menger Sponge. Eighty years later Dr. Jeannine Mosely, an MIT-trained engineer, built a model of this extraordinary object using 66,000 business cards. In 2006 the Institute For Figuring curated an exhibition of this Business Card Menger Sponge at Machine Project in Los Angeles.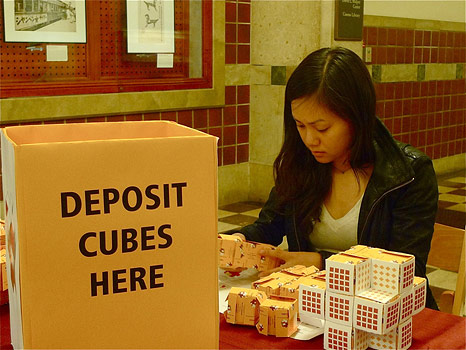 Now Dr. Mosely has discovered a relative of Menger's original fractal—the Mosely Snowflake Sponge. This new fractal has a six-fold symmetry that calls to mind the hexagonal beauty of a snow crystal.
During the spring + summer of 2012, Mosely and Wertheim will undertake a project for the USC Libraries to construct this form out of 49,000 business cards. This is the first time in the history of the world that this wondrous fractal object will be brought into being.
Students, faculty, members of the USC community, and interested citizens of Los Angeles are invited to join with the USC Libraries in this campus-wide celebration of mathematics, art, engineering, and the library as a place of discovery and invention.
From January through August, the libraries will be hosting a series of workshops to teach the techniques for creating modules of the Mosely Snowflake Sponge. The finished fractal will be exhibited in the rotunda of the USC Doheny Library during Fall 2012.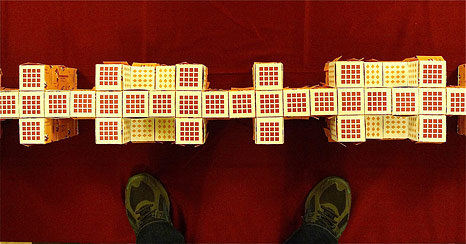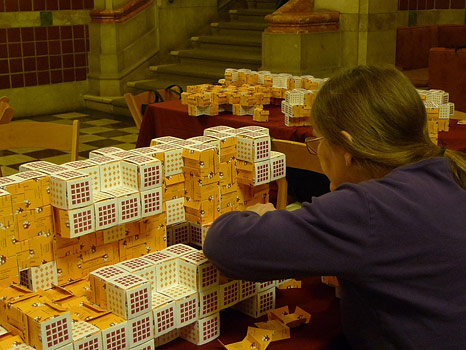 View Mosely Snowflake Sponge "Construction Guide"
This beautiful "Construction Guide" has been designed by USC's Howard Smith.
More information about the mathematics of the Menger Sponge and the history of the Business Card Menger Sponge, can be seen at the IFF's online exhibit about the project.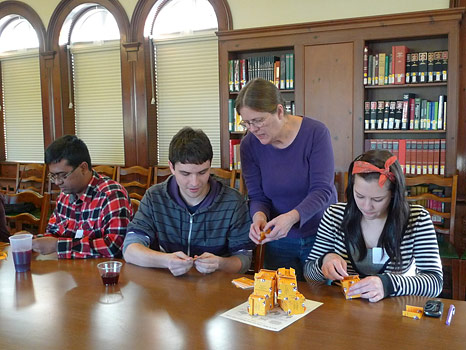 Dr Jeannine Mosely is a Boston-based software engineer who specializes in 3-D modeling programs. A pioneer in the field of mathematical paper folding, Dr Mosely is one of the leading practitioners of business card origami and one of the foremost researchers of curved folding.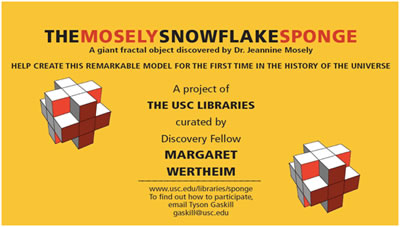 VIDEO TUTORIALS
Dr. Jeannine Mosely explains the basics of constructing components of the Snowflake Sponge fractal in these video tutorials: